Podcast: Play in new window | Download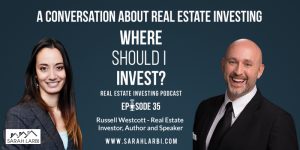 Ever wonder how to raise capital and become a master at it? How to attract money and money partners? 
Todays Guest Russell Westcott shares his insights, tips and recommendations to make this work for you. As investors, we all run out of money at some point and these skills will be crucial to getting you to the next level and on your way to financial freedom.
Known by many as the #JVJedi, Russell Westcott is a full-time veteran Canadian-based professional real estate investor, best-selling author, and an inspirational public speaker.
Russell's presentations have been called passionate, entertaining, educational and inspirational. At his core, he is a teacher, a master communicator, and has moved more than 150,000 people with his books, audio programs, presentations, interviews and podcasts.
He has a natural gift and empathy for mentoring other real estate investors, entrepreneurs, and aspiring public speakers.
He has built his first million-dollar real estate portfolio within his first year of taking the leap into real estate investing and continues to build and manage his personal real estate portfolio. Russell has co-authored 2 best-selling Canadian real estate books; 97 Tips for Canadian Real Estate Investors and Joint Ventures: The Canadian Investors Guide to Raising Money and Getting Deals Done.
Russell is part of the movement encouraging people to do what inspires them to make a measurable impact in other peoples' lives. He is an optimist, believing in a bright future and our ability to build it together.
Website: https://russellwestcott.com/
Book: Real Estate Joint Ventures: The Canadian Investors Guide to Raising Money and Getting Deals Done
Share and Subscribe for more content, visit our Youtube channel at https://www.youtube.com/channel/UC9DbFl4XFDGpMl4mUQvpi5Q
On Facebook at https://www.facebook.com/SarahLarbi84/
"Where Should I Invest" is brought to you in part through the sponsorship and support of Dalia Barsoum of Streetwise Mortgages. contact her to book a FREE Goals Analysis.
DALIA BARSOUM , MBA Finance 
President and Principal Broker , Streetwise Mortgages
Winner of the Outstanding Customer Service Award : CMP
Top 75 Brokers in Canada ( 2017 and 2018)  :  Canadian Mortgage Professionals Magazine ( CMP)
Mortgage Broker of the year ( 2017 , 2015 ) : Canadian Real Estate Wealth Magazine
[Direct: 416-985-4698 | www.streetwisemortgages.com | Toll Free & Fax: 1-800-208-6255 ]
Mail:  53 Berry Trail , Woodbridge , ON , L4H 2T4 | License # 12900