Podcast: Play in new window | Download
Podcast (https-itunes-apple-com-ca-podcast-where-should-i-invest-real-estate-investing-id1266521430mt2): Play in new window | Download
Subscribe: RSS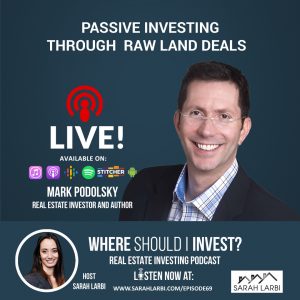 Guest: Mark Podolsky, Real Estate Investor and Author
Mark Podolsky used to fear Fridays every week as an investment banker because he knew Monday would come around again too soon. He learned from a new employee about his side hustle of buying parcels of land at tax deed auctions and flipping them online with 300% returns. Mark took $3,000 of car repair savings, bought 10 lots and sold them for $1200 each, he was hooked and has been buying and selling raw land full time since 2001.
Now having completed over 5,000 land deals Mark's company, Frontier Equity Properties, has an A+ rating with the Better Business Bureau. He is also the author of Dirt Rich, the ultimate guide to helping you build a passive income model in raw land investing.
Mark's passion for investing in land, for creating wealth efficiently and for helping other people develop their inner geeky entrepreneur has led him to do two things he never expected to do in life.
You will learn about: – Ins and outs of tax deed deals – Raw land market insights, investing and its challenges – Concepts of the tax deed auctions investing model – The raw land buying process and financials
Books Mentioned: Profit First: Transform Your Business from a Cash-Eating Monster to a Money-Making Machine by Mike Michalowicz
Get in touch with Mark: Website: www.thelandgeek.com Land Geek Podcast: https://www.thelandgeek.com/category/podcasts/ Land Geek Facebook Group: https://www.facebook.com/groups/1070554299662219/
"Where Should I Invest" is brought to you in part through the sponsorship and support of the following;
Dalia Barsoum of Streetwise Mortgages.
Contact her to book a FREE Goals Analysis – be sure to mention the podcast when you call. DALIA BARSOUM, MBA Finance President and Principal Broker, Streetwise Mortgages Direct: 416-985-4698 | www.streetwisemortgages.com | Toll Free & Fax: 1-800-208-6255 Mail: 53 Berry Trail, Woodbridge, ON, L4H 2T4 | License # 12900 An award-winning Mortgage Broker, Real Estate investor and financial advisor with over 20 years experience in the banking sector, spanning: Wealth Management, Lending, Strategy and Real Estate. Dalia holds an MBA in Finance from Dalhousie University and is a Fellow of the Institute of Canadian Bankers Association. She is the author of Canada's best selling Real Estate Financing Book and an Amazon Best Seller: "Canadian Real Estate Investor Financing: 7 Secrets to Getting All the Money You Want". Dalia's lending practice encompasses: > Strategies: Buy / Hold, Renovations, Construction Financing, Rent to own, and Student Rentals, Flipping, Land development and private lending > Structures: Corporations, Joint Ventures and Personal Holdings > Asset Classes: Residential, multi-residential, Commercial, Mixed-use and Land Direct: 416-985-4698 | www.streetwisemortgages.com | Toll Free & Fax: 1-800-208-6255 ] Mail: 53 Berry Trail, Woodbridge, ON, L4H 2T4 | License # 12900
Dylan Suitor of Elevation Realty
Helping a personal record number of families so far this year, I am totally dedicated to offering my "Industry Best" expertise in residential real estate for clients in the Niagara, Oakville, Burlington and Hamilton area. I believe in assisting my clients in every endeavour whether buying a new dream home or selling your latest strategic residential business investment. By upholding a 0% contract cancellation rate I strive to guarantee your satisfaction by utilizing an extensive knowledge of property renovation and vast network of industry contacts. I will facilitate my customer's every desire while smoothening the real estate transaction when marketing your properties far and wide. My team of qualified and totally committed real estate agents will get the job done right! By honing my team of agent's real estate matching skills through continuous education and professional development, I maintain a competitive edge for the individuals and families we work with. I can safely say that I can ensure that my customers receive the best price for their home; prices they deserve. More importantly, I listen to all my client's wishes to only deliver those properties that match their needs. With more than a decade of continuously improving performance and results in successfully helping clients, I have offered the ultimate customer service strategies, met all key goals and deadlines for clients, and negotiated for my clients real winning results. My team of agents have all committed to doing the same. So here is my promise to you: " I guarantee an awesome experience while locating and negotiating the best real estate deal for you, and then I can confidently coordinate your whole moving experience to ensure a stress-free real estate transition. I do this by truly listening to my client's needs and dreams to help those dreams come true. This is my promise to you!" Call me today at (905) 592-4220 for a free strategy session to discuss your heartfelt real estate needs." Elevation Realty Network Direct: 905-407-4289 Office: 905-844-7788