Podcast: Play in new window | Download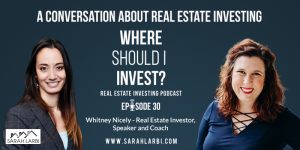 In this episode of Where Should I Invest the podcast, we interview Whitney Nicely and talk Real Estate Investing.  Whitney Nicely is an expert property investor, speaker and real estate coach.  Today, she's called the Queen of Real Estate Investing in East Tennessee.  Before quitting her job back in 2013, Whitney scraped by on $24,000 a year working a desk job and living on her parent's couch.
Now at the age of 33, Whitney owns more than $2.5 million in real estate assets.
In this episode, we will talk about;
–  Creative ways for finding deals
–  Lease options
–  The process of finding and closing properties
–  Tips on buying houses
And more about Whitney's portfolio.
Share and Subscribe for more content, visit our Youtube channel at
https://www.youtube.com/channel/UC9DbFl4XFDGpMl4mUQvpi5Q
On Facebook at https://www.facebook.com/SarahLarbi84/
Get more about Whitney Nicely at:
www.whitneynicely.com
Facebook:
https://www.facebook.com/whitneynicelyeast
Facebook Page:
https://www.facebook.com/whitneynicely
"Where Should I Invest" is brought to you in part through the sponsorship and support of Dalia Barsoum of Streetwise Mortgages. contact her to book a FREE Goals Analysis.
DALIA BARSOUM , MBA Finance 

President and Principal Broker , Streetwise Mortgages

Winner of the Outstanding Customer Service Award : CMP

Top 75 Brokers in Canada ( 2017 and 2018)  :  Canadian Mortgage Professionals Magazine ( CMP)

Mortgage Broker of the year ( 2017 , 2015 ) : Canadian Real Estate Wealth Magazine

[Direct: 416-985-4698 | www.streetwisemortgages.com | Toll Free & Fax: 1-800-208-6255 ]

Mail:  53 Berry Trail , Woodbridge , ON , L4H 2T4 | License # 12900