Podcast: Play in new window | Download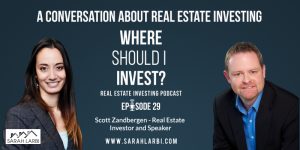 In this episode of Where Should I Invest the Podcast, We interview Scott Zandbergen and talk about Real Estate Investing.  Scott is a Real Estate Investor, Speaker and a father to two girls. He took almost 20 years to finally decide to invest in Real Estate. In 2014, he bought 3 single family homes within the span of 3 months that started his real estate investing journey.
In this Episode you'll learn. . .
– What is vertical split
– Learn about mortgage plus improvement
– Difference between doing mortgage plus improvement and BRRR
– Joint Ventures
And more about Scott's portfolio and approach to real estate investing.
Share and Subscribe for more content, visit our Youtube channel at
https://www.youtube.com/channel/UC9DbFl4XFDGpMl4mUQvpi5Q
On Facebook at https://www.facebook.com/SarahLarbi84/
Get more about Scott Zandbergen at:
Website: https://scottzandbergen.com/
Email him at: szandbergen@gmail.com
Twitter: https://twitter.com/szandbergen
LinkedIn https://www.linkedin.com/in/szandbergen
"Where Should I Invest" is brought to you in part through the sponsorship and support of Dalia Barsoum of Streetwise Mortgages. contact her to book a FREE Goals Analysis.
DALIA BARSOUM , MBA Finance 

President and Principal Broker , Streetwise Mortgages

Winner of the Outstanding Customer Service Award : CMP

Top 75 Brokers in Canada ( 2017 and 2018)  :  Canadian Mortgage Professionals Magazine ( CMP)

Mortgage Broker of the year ( 2017 , 2015 ) : Canadian Real Estate Wealth Magazine

[Direct: 416-985-4698 | www.streetwisemortgages.com | Toll Free & Fax: 1-800-208-6255 ]

Mail:  53 Berry Trail , Woodbridge , ON , L4H 2T4 | License # 12900