Podcast: Play in new window | Download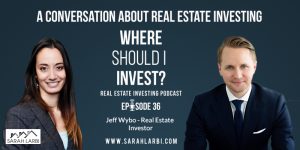 In this episode Sarah Larbi teams up with special guest co host Sarah Eder to interview none other than Jeff Wybo. Jeff is a very successful realtor and investor who has built a huge presence on social media platforms.
Jeff's career began in the Canadian Armed Forces. When returning home in 2012, Jeff started purchasing income properties in London, Ontario and has been focused on real estate ever since. Jeff has built a solid portfolio of income properties and a great reputation as a realtor helping investors.
Jeff Wybo hosts Investment Property Limo Tours to investors offering a creative approach to learning how to make money in real estate. He also focuses on selling The Agency's luxury listings and offers a unique marketing ability via social media.
To learn more about Jeff find him at:
Instagram: @jeffwybo
Share and Subscribe for more content, visit our Youtube channel at https://www.youtube.com/channel/UC9DbFl4XFDGpMl4mUQvpi5Q
On Facebook at https://www.facebook.com/SarahLarbi84/
"Where Should I Invest" is brought to you in part through the sponsorship and support of Dalia Barsoum of Streetwise Mortgages. contact her to book a FREE Goals Analysis.
DALIA BARSOUM , MBA Finance 
President and Principal Broker , Streetwise Mortgages
Winner of the Outstanding Customer Service Award : CMP
Top 75 Brokers in Canada ( 2017 and 2018)  :  Canadian Mortgage Professionals Magazine ( CMP)
Mortgage Broker of the year ( 2017 , 2015 ) : Canadian Real Estate Wealth Magazine
[Direct: 416-985-4698 | www.streetwisemortgages.com | Toll Free & Fax: 1-800-208-6255 ]
Mail:  53 Berry Trail , Woodbridge , ON , L4H 2T4 | License # 12900