Podcast: Play in new window | Download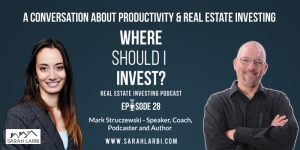 In this episode of the Where Should I Invest? podcast we interview Mark Struczewski and talk about productivity and performance and how that impacts real estate investors. Mark is a speaker, coach, podcaster and the author of How to Overcome Roadblocks on the Path to Your Success and How to REALLY Be More Productive
He is a productivity and time management specialist, who is obsessed with helping entrepreneurs, corporations, small businesses and individuals become a more productive version of themselves.
In this episode, you'll learn. . .
– Tips on how to be productive
– Why there are people aren't productive
– What/Ways to do to be productive
– How to be productive with all other stuff going on at the same time
– Different time wasters most people spend on
– Why you should put things on schedule
Share and Subscribe for more content, visit our Youtube channel at
https://www.youtube.com/channel/UC9DbFl4XFDGpMl4mUQvpi5Q
On Facebook at https://www.facebook.com/SarahLarbi84/
Get more about Mark 'Ski' Struczewski at:
LinkedIn
https://www.linkedin.com/in/markstruczewski
Instagram
https://www.instagram.com/markstruczewski/
Twitter
https://twitter.com/MarkStruczewski
"Where Should I Invest" is brought to you in part through the sponsorship and support of Dalia Barsoum of Streetwise Mortgages. contact her to book a FREE Goals Analysis.
DALIA BARSOUM , MBA Finance 

President and Principal Broker , Streetwise Mortgages

Winner of the Outstanding Customer Service Award : CMP

Top 75 Brokers in Canada ( 2017 and 2018)  :  Canadian Mortgage Professionals Magazine ( CMP)

Mortgage Broker of the year ( 2017 , 2015 ) : Canadian Real Estate Wealth Magazine

[Direct: 416-985-4698 | www.streetwisemortgages.com | Toll Free & Fax: 1-800-208-6255 ]

Mail:  53 Berry Trail , Woodbridge , ON , L4H 2T4 | License # 12900