Podcast: Play in new window | Download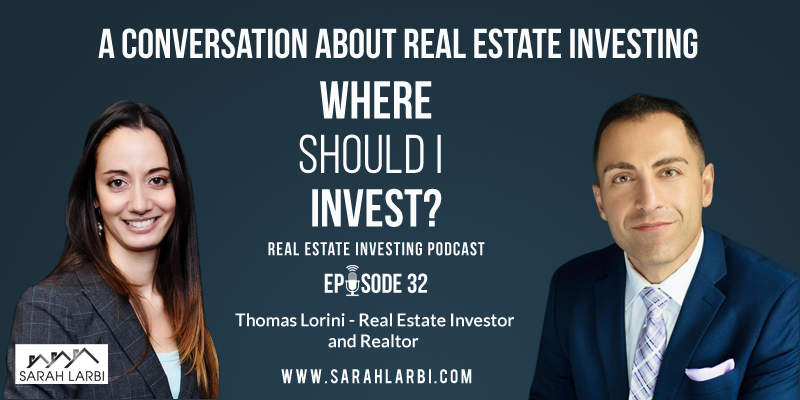 In this episode of the Where Should I Invest? podcast,  Sarah interviews Thomas Lorini and talks about how he got started in real estate investing.
Thomas is a successful real estate investor with over a decade of experience. He started with a townhouse back in 2004 and today manages 20+ rental units, from Southern California. Additionally, he has completed several flips and wholesaled properties from over 4,000 kms away!
He will share how he transitioned from Ontario Canada to Southern California, how he self-manages his properties by implementing a solid system in his local markets and has been rapidly expanding his portfolio in the last year.
In this Episode you'll learn. . .
– Tips on Long Distance Real Estate Management
– More Investing information on Windsor, Ontario
– Tips on finding and buying properties
– Financing differences between US and Canada
And more about Thomas.
Get more about Thomas  Lorini at:
Facebook – https://www.facebook.com/thomaslorini77
E-Mail – tlorini@kw.com
Phone – 949-701-8272
Share and Subscribe for more content, visit our Youtube channel at https://www.youtube.com/channel/UC9DbFl4XFDGpMl4mUQvpi5Q
On Facebook at https://www.facebook.com/SarahLarbi84/
"Where Should I Invest" is brought to you in part through the sponsorship and support of Dalia Barsoum of Streetwise Mortgages. contact her to book a FREE Goals Analysis.
DALIA BARSOUM , MBA Finance
President and Principal Broker , Streetwise Mortgages
Winner of the Outstanding Customer Service Award : CMP
Top 75 Brokers in Canada ( 2017 and 2018) : Canadian Mortgage Professionals Magazine ( CMP)
Mortgage Broker of the year ( 2017 , 2015 ) : Canadian Real Estate Wealth Magazine
[Direct: 416-985-4698 | www.streetwisemortgages.com | Toll Free & Fax: 1-800-208-6255 ]
Mail: 53 Berry Trail , Woodbridge , ON , L4H 2T4 | License # 12900