Podcast: Play in new window | Download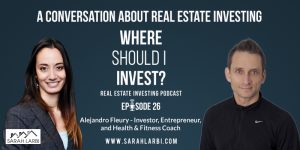 In this episode of the Where Should I Invest? podcast, we Interview Alejandro Fleury a Certified Fitness Trainer and a Nutrition Coach. He shares his story on how he purchased 40 properties in under 3 years without using any of his own money. Alejandro is from Venezuela, South America back in 1995 when he came across one real estate infomercial that started his real estate investing journey.
Listen and learn. . .
– Tips and strategies on finding deals and financing properties
– Tips on managing multiple properties
– Tips on finding a good property manager
– Criteria(s) for finding properties
– Ideas on how to find motivated sellers outside MLS
And more. . .
Share and Subscribe for more content, visit our Youtube channel at
https://www.youtube.com/channel/UC9DbFl4XFDGpMl4mUQvpi5Q
On Facebook at https://www.facebook.com/SarahLarbi84/
On Instagram https://www.instagram.com/sarahlarbi84/
Get in Touch with Alejandro at:
The Northern Three Realty Community on Facebook
https://www.facebook.com/NorthernThreeRealtyOntario/
Don't forget:
Please Rate and Subscribe to this podcast 
For more content, or visit my website: www.sarahlarbi.com
"Where Should I Invest" is brought to you in part through the sponsorship and support of Dalia Barsoum of Streetwise Mortgages. contact her to book a FREE Goals Analysis.
DALIA BARSOUM , MBA Finance 

President and Principal Broker , Streetwise Mortgages

Winner of the Outstanding Customer Service Award : CMP

Top 75 Brokers in Canada ( 2017 and 2018)  :  Canadian Mortgage Professionals Magazine ( CMP)

Mortgage Broker of the year ( 2017 , 2015 ) : Canadian Real Estate Wealth Magazine

[Direct: 416-985-4698 | www.streetwisemortgages.com | Toll Free & Fax: 1-800-208-6255 ]

Mail:  53 Berry Trail , Woodbridge , ON , L4H 2T4 | License # 12900