Podcast: Play in new window | Download
Podcast (https-itunes-apple-com-ca-podcast-where-should-i-invest-real-estate-investing-id1266521430mt2): Play in new window | Download
Subscribe: RSS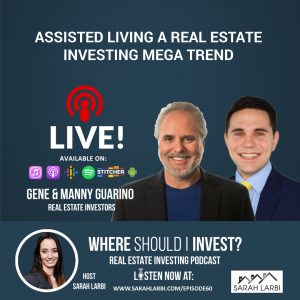 Guests:  Gene and Manny Guarino, Real Estate Investors
Gene and Emmanuel (Manny) Guarino are father and son real estate investors based in Arizona who focus on the growing residential assisted living investment space. Gene got started in real estate investing at an early age and over the years completed a variety of investments including buy and hold, flips and commercial.
Around 7 years ago he got started in residential assisted living, which is running the day to day living needs for a group of seniors inside a residential home. One of the key differences between this and larger eldercare homes is there is not a medical component to the daily care.
Manny was attracted to the business after seeing his father being recognized by Robert Kiyosaki as 'THE Residential Assisted Living Guy'. He is now one of the top realtors in this space in the area and also works on other areas of the business.
The family personally owns and operates three care homes in Phoenix and Scottsdale and through a planned merger and other investments they are invested in around 200 spaces in assisted living buildings across the country.
Gene has over 30 years of experience in real estate investing and business and now is focused on the mega-trend of senior assisted housing. Having trained tens of thousands of investor/entrepreneurs over the past 25 years, 5 years ago he looked to specialize in helping others take advantage of this opportunity, founding the Residential Assisted Living Academy. Both Gene and Manny teach, coach and mentor individuals, who are looking to get into the industry, the ins and outs of this business. You will learn about: – Why assisted living is becoming a mega real estate investing trend – Understanding what is needed for a property and local regulations – Different types of real estate investing models for residential assisted living – What expenses look like and the cash flow upsides of this strategy – Why more people are not looking at this investing strategy and why you should
Get in touch with Gene and Manny: Websites: https://residentialassistedlivingacademy.com https://www.ralnationalconvention.com https://www.theassistedlivingagents.com Gene Guarino   (​480) 704-3065 support@ralacademy.com Manny Guarino    480.567.8264 emmanuel@ralacademy.com