Podcast: Play in new window | Download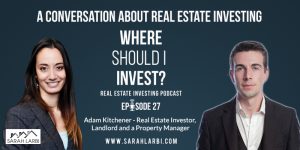 In this episode of Where Should I Invest? the podcast, we interview Adam Kitchener a Real Estate Investor/Landlord and Property Manager.
Adam grew up in the real estate business. His father had built a small portfolio of properties, buying when Adam was a young age. It was exposure to these properties that Adam developed his love for real estate, architecture and business. Following his father around to his properties, Adam learned the business from knee high and ground up.
In this Episode, you'll learn. . .
– Strategies on building your real estate foundation
– Tips and Tricks on how to manage your properties
– Building your own real estate brand
– Tips what to look for in a property manager or management company
– How should an Investor manage a property manager or management company
– Tracking/handling/managing unpaying tenants and complaining tenants
Share and Subscribe for more content, visit our Youtube Channel at
https://www.youtube.com/channel/UC9DbFl4XFDGpMl4mUQvpi5Q
On Facebook at https://www.facebook.com/SarahLarbi84/
Get more about Adam Kitchener at:
www.adamkitchener.com
Don't forget:
Please Rate and Subscribe to this podcast 
For more content, or visit my website: www.sarahlarbi.com
"Where Should I Invest" is brought to you in part through the sponsorship and support of Dalia Barsoum of Streetwise Mortgages. contact her to book a FREE Goals Analysis.
DALIA BARSOUM , MBA Finance 

President and Principal Broker , Streetwise Mortgages

Winner of the Outstanding Customer Service Award : CMP

Top 75 Brokers in Canada ( 2017 and 2018)  :  Canadian Mortgage Professionals Magazine ( CMP)

Mortgage Broker of the year ( 2017 , 2015 ) : Canadian Real Estate Wealth Magazine

[Direct: 416-985-4698 | www.streetwisemortgages.com | Toll Free & Fax: 1-800-208-6255 ]

Mail:  53 Berry Trail , Woodbridge , ON , L4H 2T4 | License # 12900