Podcast: Play in new window | Download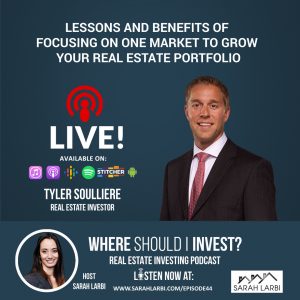 Tyler Soulliere
is an award-winning real estate investor born and raised in Windsor, Ontario. After obtaining his MBA at Northwood University in Michigan he returned to the city to follow a business career and working in the family business. After the business was acquired by a Fortune 500 company Tyler decided to pursue a career as a realtor initially in Toronto to be mentored by one of the top RE/MAX producers. On returning to Windsor he started to work with real estate investors taking the opportunity to learn before taking the plunge with his own fixer-upper for $48k. In the next 11 months, he purchased another 14 properties, which resulted in his being awarded the Canadian Real Estate Wealth Magazine National Investor of the Year in 2015 from over 1,000 candidates. As Tyler continued to expand his experience and portfolio, which now stands at 55 doors, he wanted to start sharing his knowledge of investing in real estate with other like-minded individuals. As a result, he has created online training courses as well as launching TySoull Educator to help share his expertise and lessons learned with investors looking to invest in real estate.
You will learn about:
– The opportunities, growth and boom in the Windsor Market. – Importance of building a power team when scaling your business. – Real estate terms new and experienced investors need to know. – Why numbers matter, especially when buying multi-units.
Book Recommended:
Flip 
by Gary Keller
Get in Touch with Tyler:
Website: 
http://tysoulleducator.com
Get a copy of Sarah's brand new "Market Fundamentals Worksheet" that she mentions in the podcast – 
click here to grab your copy.
"Where Should I Invest"
 is brought to you in part through the sponsorship and support of Dalia Barsoum of Streetwise Mortgages. contact her to book a FREE Goals Analysis.
DALIA BARSOUM, MBA Finance 
President and Principal Broker, Streetwise Mortgages
Winner of the Outstanding Customer Service Award: CMP
Top 75 Brokers in Canada ( 2017 and 2018): Canadian Mortgage Professionals Magazine ( CMP)
Mortgage Broker of the year (2017, 2015): Canadian Real Estate Wealth Magazine
[Direct: 416-985-4698 | www.streetwisemortgages.com | Toll Free & Fax: 1-800-208-6255 ]
Mail:  53 Berry Trail, Woodbridge, ON, L4H 2T4 | License # 12900.