Podcast: Play in new window | Download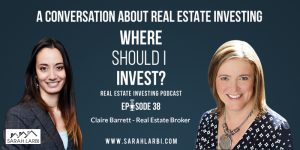 Claire has a passion for providing the best results for her clients.  She integrates her previous experience as a licensed financial planner into her clients searches for the right real estate solution. By getting the best results for buyers, sellers and investors, Claire was awarded Double Platinum recognition from Keller Williams International by her second year in real estate.
Claire's dedication to the success of others has produced an amazing team of contractors, inspectors, mortgage brokers, stagers, lawyers, and other critical team members to the real estate transaction and beyond.  Any client of Barrett Realty Advantage is a client for life!
You will learn about:
– What to look for when choosing a realtor for your team
– how to find some great deals on an off market
– How to make offers on properties
– What conditions you want to include in your purchase offer
– How to find multi-family properties
Get in Touch with Claire:
"Where Should I Invest" is brought to you in part through the sponsorship and support of Dalia Barsoum of Streetwise Mortgages. contact her to book a FREE Goals Analysis.
DALIA BARSOUM, MBA Finance 
President and Principal Broker, Streetwise Mortgages
Winner of the Outstanding Customer Service Award: CMP
Top 75 Brokers in Canada ( 2017 and 2018): Canadian Mortgage Professionals Magazine ( CMP)
Mortgage Broker of the year (2017, 2015): Canadian Real Estate Wealth Magazine
[Direct: 416-985-4698 | www.streetwisemortgages.com | Toll Free & Fax: 1-800-208-6255 ]
Mail:  53 Berry Trail, Woodbridge, ON, L4H 2T4 | License # 12900