Podcast: Play in new window | Download
Podcast (https-itunes-apple-com-ca-podcast-where-should-i-invest-real-estate-investing-id1266521430mt2): Play in new window | Download
Subscribe: RSS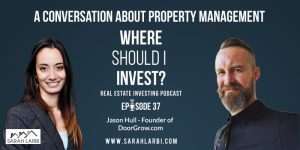 Jason Hull got his entrepreneurial start after working for a few tech companies and then going through a divorce. That drove his need to have more time with his kids.
Like many entrepreneurs, he gave up safety & certainty of a job to allow him greater freedom and he did it for his family, to be able to spend time with his two daughters. Once the entrepreneurial fire was lit, he couldn't put it out.
Jason's mission in life is to inspire others to love true principles. This means he loves uncovering & learning what works and sharing it with others.
You will learn about:
Pros and cons to self-managing or hiring a property manager
Tips on finding a property manager
How to scale up your portfolio
What to ask a property manager to ensure you have the best one working for you
More about Jason:
Jason has enjoyed being able to help grow businesses from wherever he called home & operating in the background. He has been the secret weapon of savvy property management entrepreneurs for a decade.
With a little pushing and prodding from both coaches & clients, Jason realized he would have to be the one to create the change that he wanted to see happen in the property management industry. He launched DoorGrow with the mission to "Transform Property Management Businesses & Their Owners" with the intention of transforming the entire industry through his followers & clients.
Jason is challenging the status quo and disrupting the accepted group-think existing in the industry that assumes that you need to do costly marketing (advertising) in order to grow. He also is shifting his clients' focus from fighting over the small amount of existing market share to creating new market share instead.
Get in Touch with Jason:
Facebook: https://www.facebook.com/DoorGrow/
Twitter: https://twitter.com/doorgrow
Instagram: https://www.instagram.com/doorgrow/
YouTube: https://www.youtube.com/doorgrow
LinkedIn: https://www.linkedin.com/company/doorgrow/
Websites: https://doorgrowlive.com/ & https://doorgrow.com